A new bold project to bring platypus back to the River Torrens has been launched, as part of Adelaide's push to become a National Park City.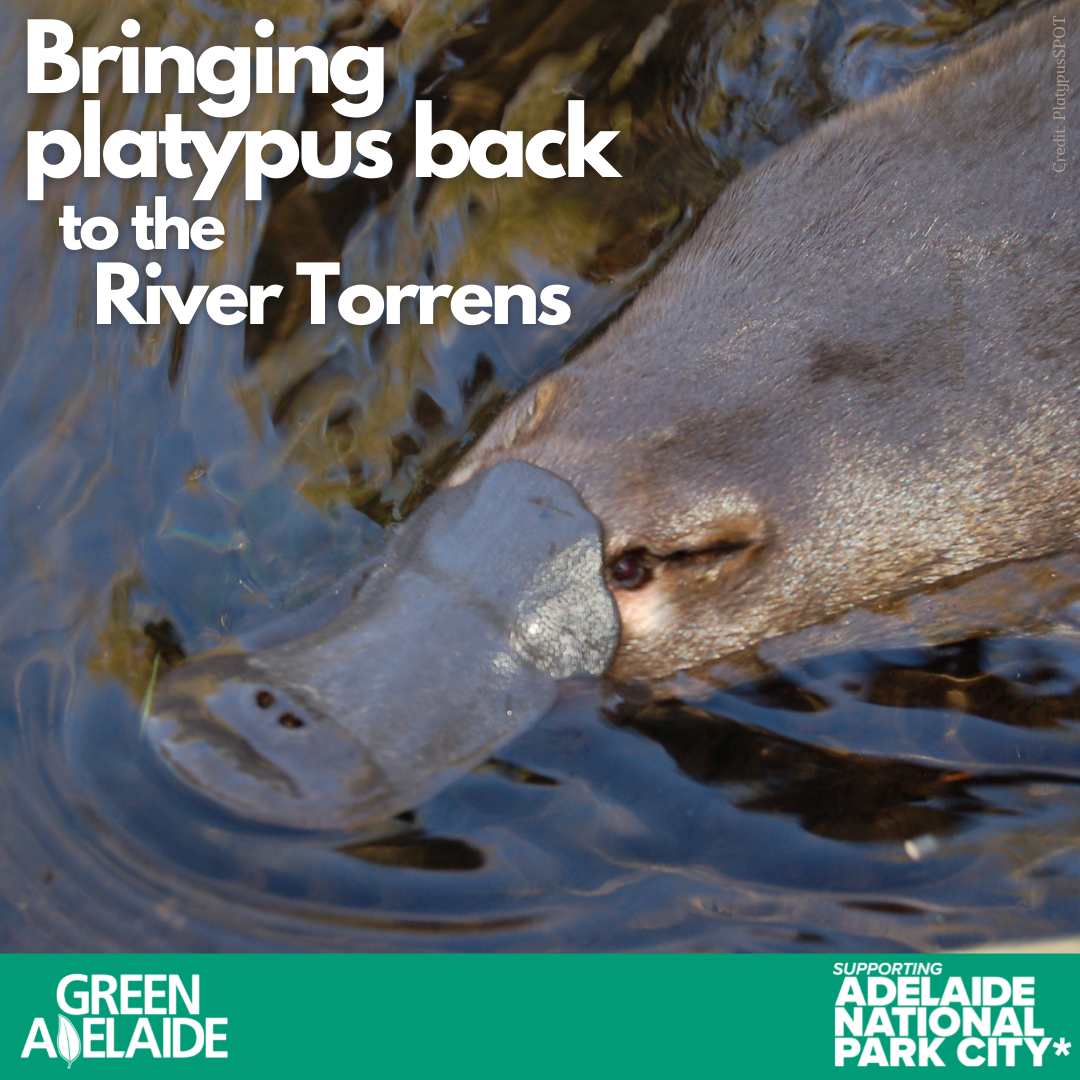 Green Adelaide will lead the development of a 'Bringing Platypus Back to the River Torrens Scoping Study' with input from key organisations, platypus researchers and councils to better understand the possibility of bringing platypus back to Adelaide's River Torrens.

Green Adelaide Board Presiding Member Professor Chris Daniels said that bringing platypus back to the River Torrens has been a dream of Adelaide for more than 20 years.
"The River Torrens has come a long way, and with today's improved native vegetation and water quality, it is the right time to progress this exciting project to hopefully make this dream a reality," Minister Speirs said.
"The platypus reintroduction also has many other benefits, from supporting the survival of an iconic Australian species, to tourism opportunities, as well as supporting the long-term health of our 85-kilometre River Torrens system.

"The scoping study will help to identify areas along the River Torrens for potential reintroduction, population sources, and will involve a platypus reintroduction risk analysis," Prof Daniels said.

"We know that issues of opera house traps, pumps and animals like foxes are obstacles to a successful reintroduction. Through developing this scoping study with platypus experts and other key partners we'll determine the best way forward.
"The platypus is an umbrella species, and if we can successfully reintroduce this iconic Australian animal to Torrens it means a healthy waterway with benefits for other species like long-neck turtles and native water rats - also known as rakali."
University of Adelaide mammologist Dr Jasmin Packer has had much experience researching other riverbank mammals like rakali and bandicoots.
She said that the platypus has a history in Adelaide and is now a missing vital part of the River Torrens ecosystem.
"Platypus were common in the River Torrens and probably other Greater Adelaide waterways until the late 1880s," Dr Packer said.
"Since then, there have been regular reports of platypus in the Onkaparinga and Sturt Rivers, but we're still looking forward to the day when someone shares photos or footage of these sightings.
"This potential reintroduction is a vital and exciting next step in continuing the improvement of the River Torrens we all love so much."
Green Adelaide is engaging with potential partners on the scoping study, which is expected to take about six months to develop.
A National Park City is a new notion for Adelaide to create a movement for a more liveable metropolitan SA that brings social, economic and environment benefits. It is a focused community effort to improve a city's liveability through a better connection between people and nature.
(Banner image courtesy of PlatypusSPOT)