Grab a buddy and jump in for an underwater adventure with South Australia's world-class marine parks and beaches. Here's where.

Whether it's your local coastline or something further afield, families can relax and explore the unique aquatic life of our beaches, rockpools, jetties, mangroves, and rivers.
Discover 3 snorkelling spots a short drive from the Adelaide CBD to inspire your family's nature play adventures, thanks to Carl Charter of Experiencing Marine Sanctuaries and Nature Play SA.
1. Port Noarlunga jetty and reef
A short drive from Adelaide in the Encounter Marine Park and Port Noarlunga Sanctuary Zone, the Port Noarlunga jetty is a great spot for families to enjoy the beach and easily access a reef.
Beginners can enter from the shore under the jetty, and explore the jetty pylons and shallow southern reef.
Advanced snorkellers can investigate life under the jetty and along the reef via the stairs at the end of the jetty.
Distance from Adelaide: 30 km south.
Parking and amenities: Parking and spacious visitor facilities with change rooms, toilets, shaded picnic tables, and outside showers.
Easy access to the reef via stairs and dive platforms. Boat ramp to launch a kayak or stand-up board. Accessible car parking and ramps.
Things to discover: At the jetty stairs entry, you'll be welcomed by large schools of sweep, silver drummer, leather jackets, and zebra fish.
As you move along the reef, search for crabs, rays, reef fish, squid – and maybe even a dolphin or seadragon!
Along the beach entry areas, look for bright orange sea stars, crabs, bream, dusky morwong, rays, and – if you're lucky – a harmless Port Jackson shark!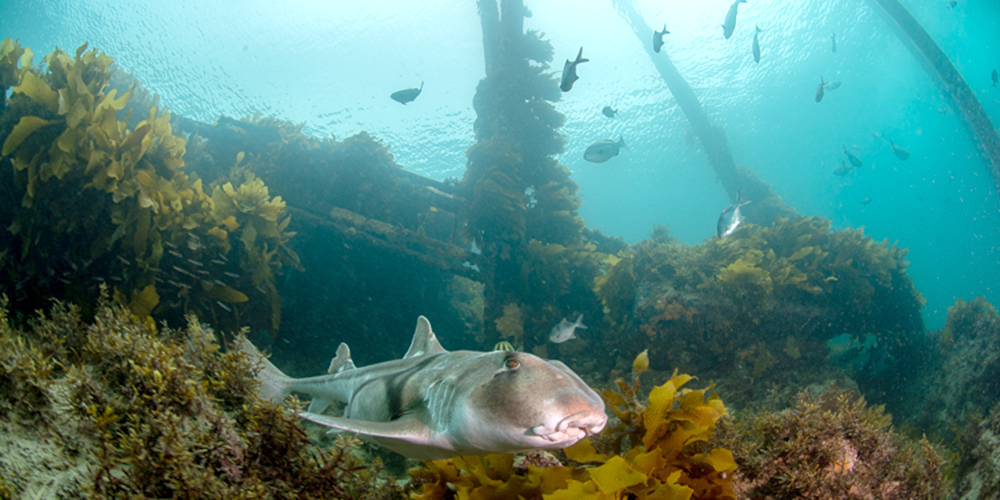 2. Hallett Cove Beach
Another spectacular destination in Adelaide's south, Hallett Cove Beach offers countless opportunities to discover nature and our state's unique marine life.
Explore the rocky beach and shallow rock pools in the intertidal zone – the section of the beach between the low and high tide marks – or learn what lies beneath the sea with snorkelling options for shallow and deeper water.
Distance from Adelaide: 23 km south.
Parking and amenities: Shaded picnic tables, grassy areas, playground, BBQs, toilets, and car parking. Accessible parking, ramps, toilets, and picnic area. Public transport available (trains and bus routes).
Things to discover: Spot Encounter marine life, like dolphins, eagle rays, reef fish, blue swimmer crabs, and squid breeding areas.
Beachcomb and peer at rock pools along the shore.
Visit the adjoining Hallett Cove Conservation Park to learn about the ice age, wildlife, and cultural and geological heritage via interpretative signage.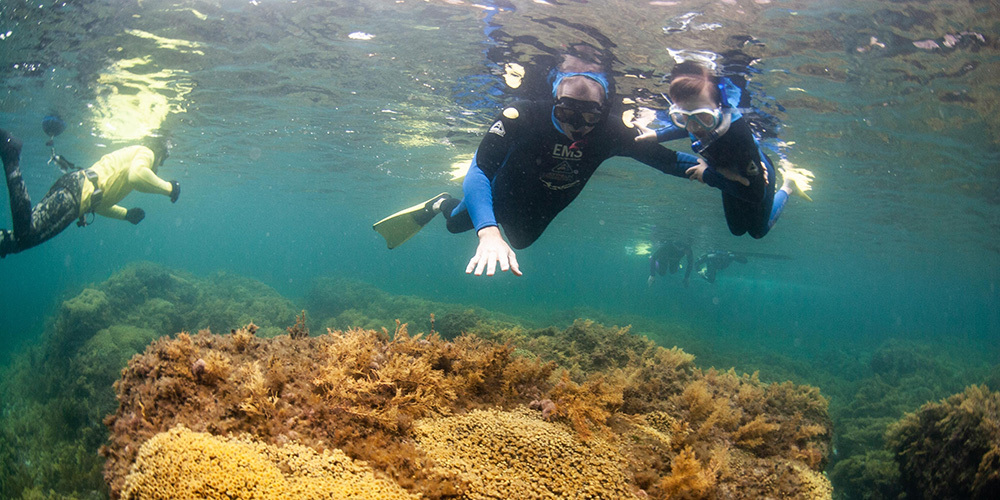 3. Gawler River mangroves
A short drive north of the city, the Port Gawler mangrove forest is a great spot for nature lovers to immerse themselves.
This special spot is an important nursery area and habitat for an amazing variety of fish, crabs, and plant life.
Located within the Adelaide International Bird Sanctuary National Park – Winaityinaityi Pangkara and Adelaide Dolphin Sanctuary, the mangroves are a truly magical place to snorkel and take in the scenery – above and below the water!
Distance from Adelaide: 45 km north of Adelaide.
Parking and amenities: Car parking and small pontoon.
Things to discover: Marvel at the mangroves and their upward growing roots called 'pneumatophores,' which help them take in oxygen.
Underwater, keep your eyes peeled for crabs, sea squirts, sea anemones, fish, prawns, and rays.
Spot resident and migratory shorebirds in the bird sanctuary and kayak in bottle-nose dolphin habitat in the dolphin sanctuary.
Can beginners go snorkelling?
Absolutely! If you're new to snorkelling or don't own equipment, booking with a snorkel tour company or group like Experiencing Marine Sanctuaries can help you dip your toes and feel more confident.
Alternatively, pool snorkel 101 classes teach the basics and can help build you and your family's confidence before venturing into the ocean.
How do you prepare for snorkelling?
When planning a snorkel, check weather and sea conditions, be sun smart, pack ample water, snacks, and well-maintained snorkel gear.
Wear a wetsuit, snorkel with a buddy, and let someone know your snorkel entry/exit point and when you plan to return.
A dive flag on a float and a cutting tool are essential for safety, as is a first aid kit and charged mobile phone.
Here's some more snorkel safety tips from Experiencing Marine Sanctuaries:

This blog was written by Carl Charter of Experiencing Marine Sanctuaries and was originally published by Nature Play SA. This blog has been reproduced with permission.