Looking for something to do over the school holidays? Ready the bikes or pile the kids in the car and head out for a low-cost adventure. Read on to discover some of the best adventure and nature playgrounds in Adelaide.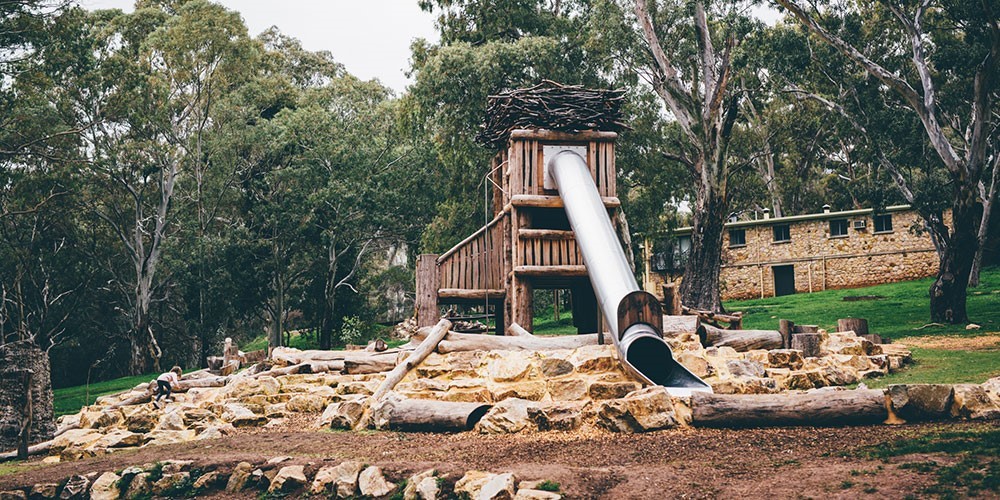 Nature playspaces and adventure playgrounds are opportunities for adventurous and imaginative play for all ages and abilities. And with many of SA's best playspaces set in national parks and natural reserves, a simple trip to the playground quickly catalyses curiosity and free play in a wilder world.
Here's 8 playgrounds to visit in Adelaide:
1. Mukanthi Playground
Mukanthi (meaning 'celebrate and play' in Kaurna) is a multi-award-winning playspace.
There are 5 areas – Frog Island, Eagles Perch, Great Snake, Birds Nest, climbing boulders and trees – for children to explore and connect with nature.
Where: Morialta Conservation Park (Stradbroke Rd, Woodforde).
Distance from Adelaide: 10 kilometres north-east.
Parking and amenities: Parking, toilets, BBQs, shaded tables and benches.
Accessibility: Accessible car parks are located at the Stradbroke Road parking area, along with two accessible toilets at the playspace.
More things to do: Morialta is a much-loved spot for creek adventures, picnicking, hiking, mountain biking, and rock climbing. In winter, check out 3 iconic waterfalls in the park. Need more ideas? Discover 40 things to do in Morialta Conservation Park.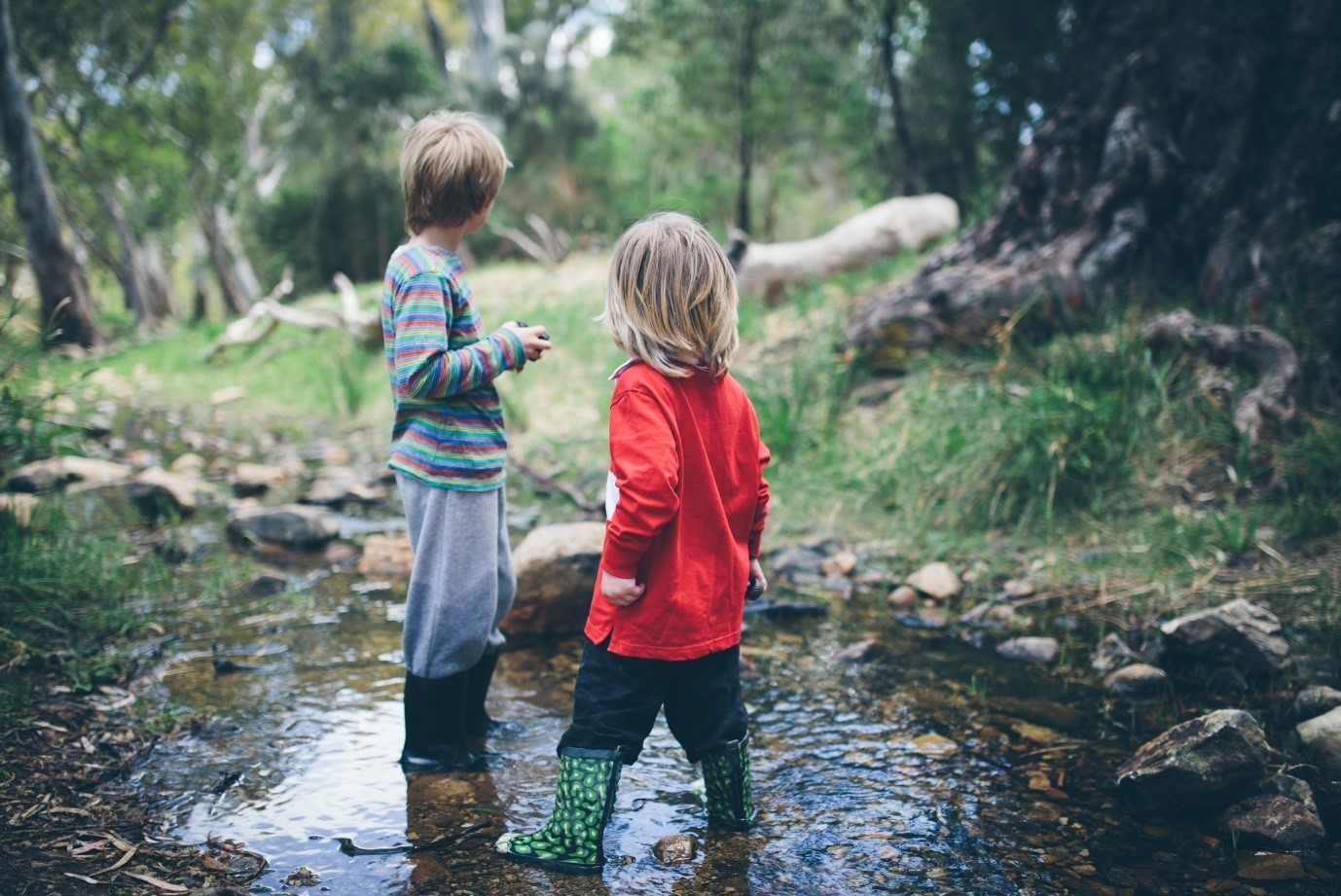 2. Kites and Kestrels Adventure Playground
Play the day away at Cobbler Creek Recreation Park. Test out the flying fox, nest towers, and natural elements like sand, creeks, and stepping stones in the bird of prey-themed playground. Pack the bikes to discover the park's pump track and purpose-built riding trails.
Where: Corner of Bridge and Smith roads, Salisbury East.
Distance from Adelaide: 20 km north.
Parking and amenities: Shaded picnic tables, BBQs, toilets and car parking.
Accessibility: Accessible parking, toilets, and picnic area available at the main entrance carpark.
More things to do: Learn about local plants and animals at the nearby Birds, Bees, and Butterflies Garden and Colour of Nature display. Spot kites and kestrels in Pedlars Paddock and look for lizards sunning themselves. Find out about bush tucker and Kaurna culture on the 2.4km Mai Tappa Circuit.
3. Wilfred Taylor Reserve Nature Playspace
This $2.2 million playspace offers adventurous and inclusive play to all ages and abilities. Kaurna Culture, the site's farming history, and hills-to-beach themes feature as key design elements, with junior and older kids play areas providing abundant active, imaginative, and sensory play opportunities.
Where: Wheatsheaf Road, Morphett Vale.
Distance from Adelaide: 26 km south.
Parking and amenities: Parking, sheltered picnics, toilets, BBQs, fenced junior play area.
Accessibility: Inclusive elements include basket swings, a bucket-seat flying fox, raised sensory gardens and sand play, a vertical xylophone, and a wheel-chair accessible carousel.
More things to do: Explore the broader Wilfred Taylor Reserve along walking and riding paths. Follow Christies Creek, taking in ancient red gums and birds like lorikeets and New Holland honeyeaters. Plus, play ball sports on grassed areas.
4. Oaklands Reserve
Spend a few hours or the whole day discovering Oaklands Reserve's 3 unique areas. Climb, balance, and find adventure in the nature playground, explore Oaklands Wetland, brimming with wildlife and native plants; or ride the skate park and more in the popular Recreational Plaza.
Where: Oaklands Road, Oaklands Park.
Distance from Adelaide: 13 km south.
Parking and amenities: Toilets and ample parking available.
Accessibility: Accessible toilets and parking.
More things to do: Pack a towel and change of clothes for water play in the nature playground. Look for wetland animals and insects like ducks, spoonbills, fish, frogs, and dragonflies. Ride bikes in the Recreation Plaza's mini-circuit or go further afield on the River Sturt Linear Trail or Marino Rocks Greenway. Try orienteering in the wetland, using the maps available from Orienteering SA.
5. Mitcham Reserve
Pack a picnic and prepare to be enchanted at this creek-side playground in the southern foothills.
Children can flow between play areas using a small footbridge. Discover elements such as an elf tower, balancing and climbing logs, carvings, and references to local culture and history.
Where: Corner Old Belair Road and Norman Walk, Mitcham.
Distance from Adelaide: 8 km south.
Parking and amenities: BBQ's, picnic tables, gazebo, toilets, and parking.
Accessibility: Disabled access toilets, access to double slide.
More things to do: Meet friends for a BBQ or celebration. Play ball games on the open grass. Explore Brownhill Creek Recreation Park – bushwalk the Wirraparinga Trail or find 300 year old river redgums. See what you can learn about local history.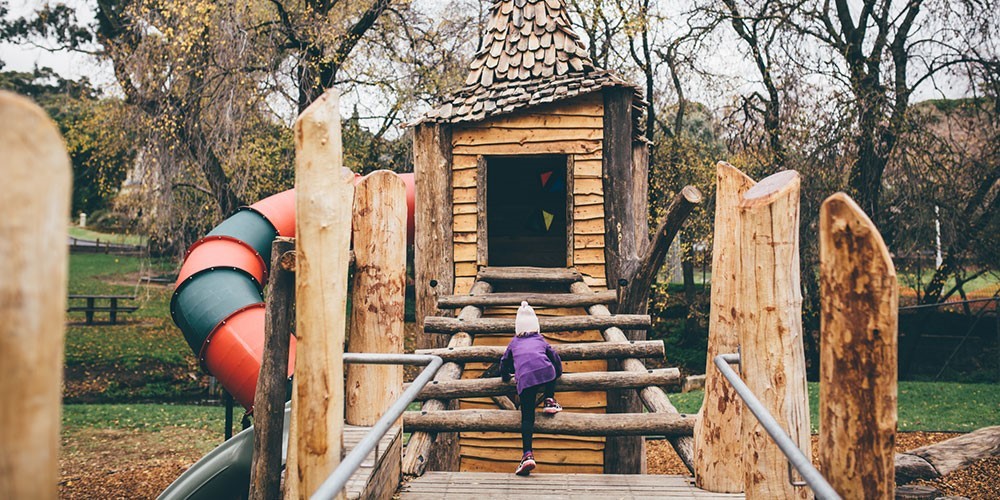 6. Jervois Street Reserve
Meet friends at this much-loved, multi-award-winning nature playground and reserve. Discover water play, stepping logs and rocks, and timber features, including a wooden caterpillar named 'Jervie.' Giant butterfly-shaped shade structures and a fully fenced space makes this reserve popular with young families. Older children and sport lovers are also well catered for.
Where Jervois Street, South Plympton.
Distance from Adelaide: 7 km south.
Parking and amenities: BBQ's, picnic tables, sheltered areas, off-street parking.
Accessibility: Disabled parking and toilets.
More things to do: Pack the bikes to ride the pump track and path around the reserve. Enjoy a scratch match or shoot hoops at the 3-on-3 basketball court and netball ring. Kick a footy or soccer ball on the open grass area or discover the chess and table tennis tables (BYO equipment).
7. Belair National Park Adventure Playground
Generations of memories have been made at Belair National Park's Adventure Playground, cherished for its vast tunnels, a giant wooden fort, curious wildlife, creek, and bushland.
Distance from Adelaide: 13 km south-east.
Parking and amenities: Public toilets, parking, kiosk in peak periods. Park entry fees can be paid at the gate or online.
Accessibility: Accessible carparks and toilets. Learn more via the park's accessibility map.
More things to do: Build a cubby using long fallen sticks on site. Look for geocaches near the playground and throughout the park. Choose from the many biking or bushwalking trails, including the Waterfall Hike to Belair's Lower and Upper Falls. Look for kangaroos, emus, koalas, kookaburras, and echidnas.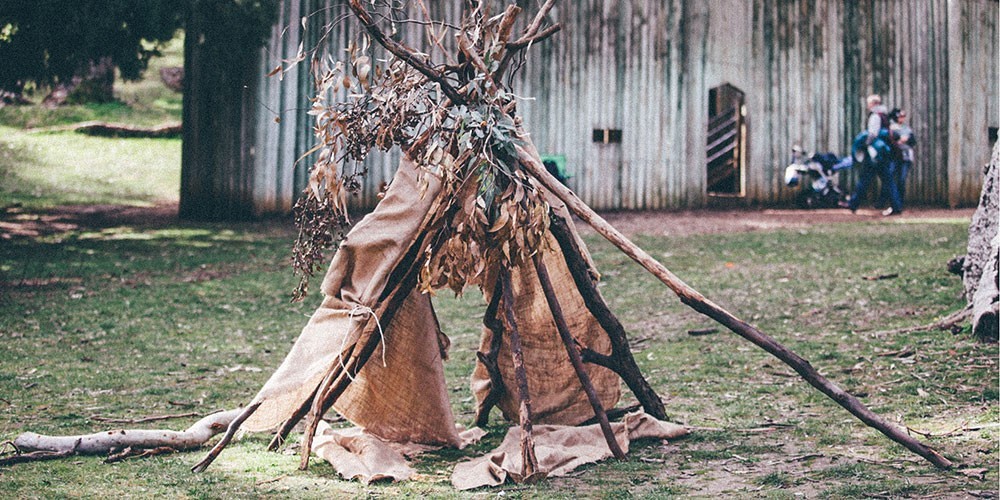 8. Marshmallow Park
Located in the greenery of the Adelaide Parklands, this playspace engages children with multiple water play features, climbing frames, Boulder Island, metal jellyfish sculptures, and traditional play equipment like slides, swings, and other apparatus. Expansive Moreton Bay figs, lawn, and fencing make this an ideal place to picnic with family and friends.
Where: Glen Osmond Rd, Adelaide.
Distance from Adelaide: In the CBD.
Parking and amenities: Toilets, seating, shelters and BBQs, parking on Glen Osmond Road (note time restrictions apply).
Accessibility: Accessible BBQs and toilet.
More things to do: Hop across rocks in the nearby creek bed and Oxbow playspace. Pack a basketball or tennis rackets for use on the Park courts. Explore the Adelaide Parklands by bike on the Parklands Trail. Take a short stroll to reflect on the beauty of nature in the Japanese-style Adelaide Himeji Garden.
This blog was written and originally published by Nature Play SA and has been reproduced with permission.