Two of South Australia's declared weeds are under the biosecurity spotlight. Find out more and help stop the spread by reporting your tips.

A summer blitz has been launched on the illicit trade of two water weeds that threaten to choke South Australian waterways and harm local wildlife.
Two SA weeds under the spotlight
The campaign is focused on two invasive weeds that pose a serious threat to South Australia's environment. They include:
Salvinia – one of the worst weeds in Australia. This free-floating aquatic, non-flowering fern grows quickly to form thick floating mats of vegetation.
Water hyacinth – one of the world's worst invasive weeds. It forms dense vegetation mats on the surface of water and rapidly block and choke waterways.
It is an offence to sell either weed types in SA. If you know or suspect something about the illegal sale of water hyacinth and salvinia then report it to Crime Stoppers SA.
Crime Stoppers SA CEO, Nigel Smart, said it is an offence to sell either weed types in South Australia, and calls on the community to help protect South Australia's waterways and environment by sharing what they know about people who trade them online and in markets.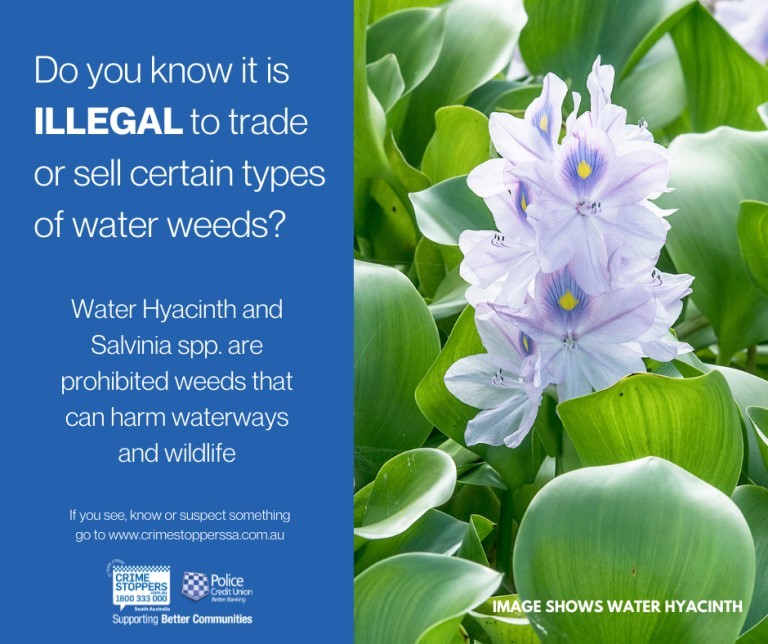 Where might you spot these invasive weeds in SA?
You'll likely see them in backyard ponds or at plant markets.
Crime Stoppers SA CEO, Nigel Smart said that these floating weed varieties are most commonly found in backyard ponds because they are hardy and grow quick, but when they are dumped or allowed to spread into our waterways they pose serious harm to our native fish, plants and animals.
"People may not know that these floating weeds for sale at their local market or online are actually illegal to sell or trade so this campaign helps people to identify both varieties and encourages them to share what they know with Crime Stoppers, because stopping the trade is critical to minimising the devastating impact these weeds cause."
Report any tips to Crime Stoppers SA
You can help protect South Australia's waterways and environment by sharing what you know about any trade, swaps or sales of the two invasive weeds.
Mr Smart said that raising community awareness and action is crucial to preventing the prohibited selling or swapping of these plants.
"It may be that friends provide a cutting to you because it's thrived in their own pond at home – but that's all it takes to put our environment, economy and community at risk. It may not be an offence to have these weeds at home, but if they're found on private property they can still be seized and destroyed by authorities."
"If you know or suspect someone is selling these prohibited plants we encourage people to take a photo if possible and share that image and any additional information by going to www.crimestopperssa.com.au."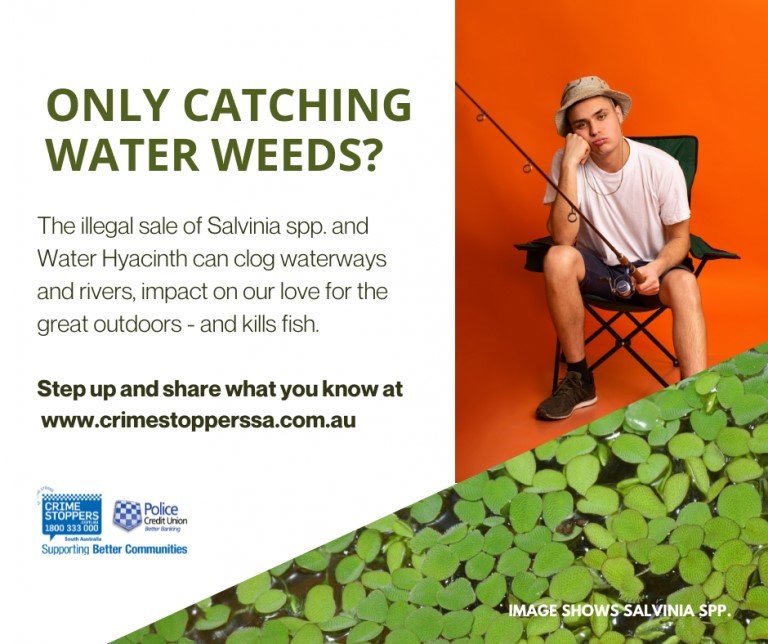 Crime Stoppers SA has partnered with Green Adelaide and the Department of Primary Industries and Regions to tackle the illegal trade of aquatic weeds, water hyacinth (Eichhornia crassipes) and salvinia spp (Salvinia molesta or Salvinia auriculata).

(Banner image is of Salvinia provided by Colin G Wilson)