The Brownhill Creek Association (BCA) used a Green Adelaide Grassroots Grant to restore the creek line alongside a Kaurna shelter tree and protect it for future generations. Discover how our grants can be used to protect cultural heritage.
A Kaurna shelter tree, known as Willawilla Karra Kuu, stands at the entrance to Brownhill Creek Recreation Park/Wirraparinga, on the banks of Brownhill Creek (Willawilla).
BCA Community Engagement and Project Officer Ron Bellchambers explained that the 450+ year old tree had long played an important role in traditional Kaurna life and is still valued by the Kaurna community today.
Wirraparinga was the Kudlila (winter) camping place and these shelter trees, along with Wardli (pieces of bark which leaned up against trees), provided much needed protection from the elements.
Read on to learn about the BCA Grassroots Grant story: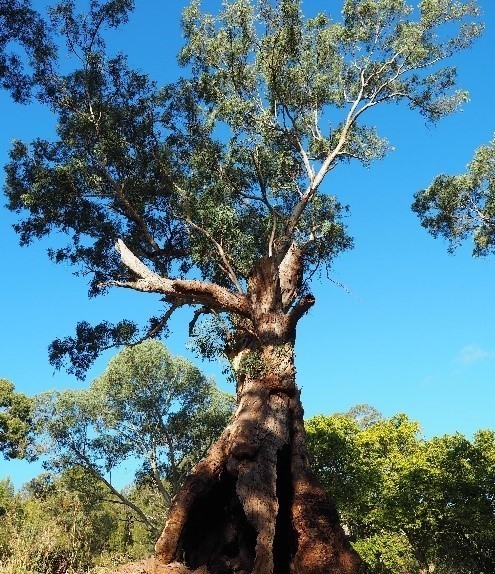 Why is this grant project important?
The culturally significant river red gum at Brownhill Creek Recreation Park/Wirraparinga was under stress due to the impact of weeds, including ash and willow, and bank erosion. The soil around its base was being compacted due to increased human activity in the area, reducing the amount of water and oxygen getting to the tree's roots.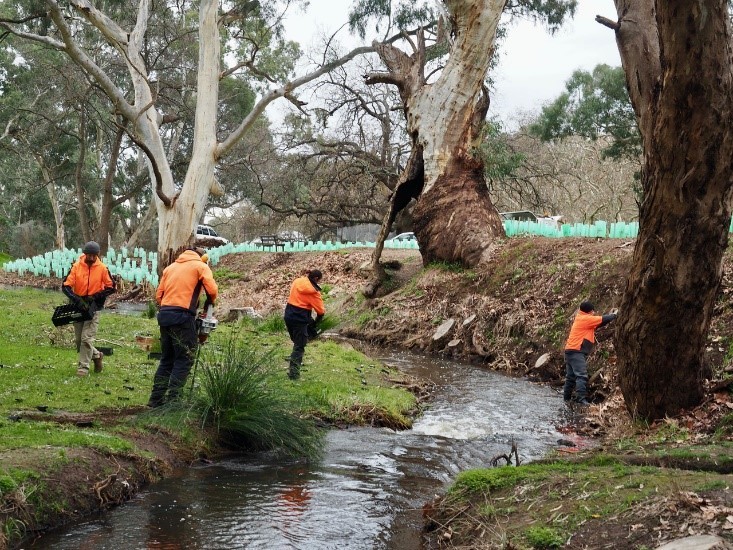 How did the Grassroots Grant help?
The grant enabled BCA to employ a contractor to prepare the creek bank for planting, including removing thick layers of leaves (later returned as compost for the site) and weed spraying to control weeds.
It also supported the purchase and planting of 1,000 native plants (e.g. sedges, rushes and grasses), which were chosen with input from Kaurna Elders and Green Adelaide/Department for Environment and Water ecologists.
Hardwood stakes and recycled tree guards were used to protect these new plants as they established themselves in their new home.

How did the project improve the environment for the community?
This grant project has improved local biodiversity and habitat, stabilised an eroded section of bank along Brownhill Creek, helped to conserve an iconic Kaurna cultural heritage site and inspired community volunteers to preserve this area into the future.
BCA's annual 'Schools' Environment Day' was held with 300 students and staff from Scotch College, Mercedes College, Urrbrae Agricultural High School, Mitcham Girls High School and Mitcham Primary School attending to celebrate the completion of this Grassroots Grant project.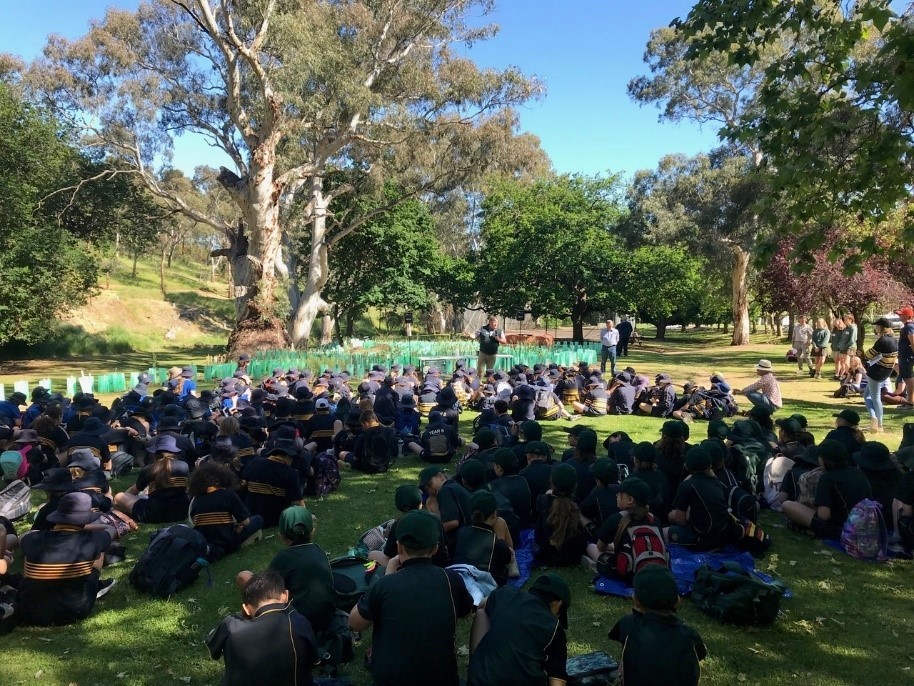 With the site being included on the park's popular Wirraparinga Loop Trail, this project will ensure that the magnificent tree can continue to be enjoyed by all, in a culturally appropriate way.
You can read more about the project on the BCA website.
Words of advice for future grant applicants
Ron said that grassroots community initiatives can connect volunteers and the community with each other and their local environment.
"So, look around your local area and see how you might improve your environment and cultural heritage with a Grassroots Grant from Green Adelaide. The results can be both rewarding and amazing!"